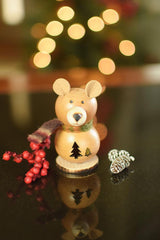 It can seem overwhelming to purchase holiday gifts for family, friends or co-workers. This should really be a fun time.  After setting your budget, think about each person one at a time.  Maybe you have someone on your list that likes the beach.  A unique candle holder of a shell may be all you need.  For the health conscious, flip cap or pour cap are sure to be appreciated.  Then there's home decor or jewelry items for any budget. Kitchen gifts of dishtowels or hand crafted wooden spoons or soft cheese boards are an easy choice for the person that likes to entertain. Handmade soap makes a wonderful gift. Gift baskets are also another option.
When it comes right down to it, the gift doesn't have to be expensive or extravagant. When the gift is unique and has more of a connection to the recipient, it's the thought you put into it as a gift just for them that makes them feel special.  Christmas is only a couple weeks away, congrats to you if your done and wrapped.  If your not done yet, I hope you enjoy the search. We are honored that you chose us to help with your list.
We hope your Christmas is filled with love and that you and yours have a happy & healthy New Year.
Treasured Country Gifts